Perfect Venue for Examination
Experience and Expertise in Organizing Computer-Based Examinations
In today's digital age, computer-based examinations have become increasingly popular due to their convenience, efficiency, and accuracy. Organizations worldwide are transitioning from traditional paper-based exams to computer-based ones to streamline the examination process. 
In Singapore, one name stands out for its extensive experience and expertise in organizing and conducting computer examinations for prominent organizations: RNN Conference Centre.
RNN Conference Centre has established itself as a leading provider of computer-based examination services in Singapore. With a strong commitment to professionalism and integrity, RNN Conference Centre ensures that all examinations are conducted smoothly and efficiently, meeting the highest standards of quality.
Range of Services Offered
RNN Conference Centre offers a comprehensive range of services related to computer-based examinations. From the initial setup and installation of servers and programs to exam day management and registration, their dedicated team takes care of every aspect of the process. Additionally, they provide post-exam submission services, ensuring that the entire examination cycle is handled seamlessly.
Experience with Prominent Organizations
RNN Conference Centre has a proven track record of working with prestigious organizations such as ABMS, ACCA, AMS, CFA, CPA Australia, ICAEW, ICCA, IELTS, and TOEFL. Their experience in handling examinations for these reputable institutions showcases their competence and reliability.
Conveniently Located Outlets
With two conveniently located outlets, RNN Conference Centre ensures easy accessibility for both local and international clients. Situated at 137 Cecil Street and International Plaza, their locations are easily reachable, providing a hassle-free experience for candidates appearing for computer-based exams.
RNN Conference Centre understands the unique requirements of overseas clients who are unable to physically attend examinations in Singapore. With our expertise in serving such clients, we ensure a seamless and secure examination process, guaranteeing the same level of professionalism and integrity. We also go above and beyond and fulfill any special requirements needed.
Professional and Experienced Staff
The staff at RNN Conference Centre are highly skilled and experienced in conducting computer-based examinations. Equipped with multiple proctor certificates and years of expertise, they possess the necessary knowledge to manage exams efficiently. Their commitment to maintaining the highest standards of integrity ensures a fair and impartial examination environment.
State-of-the-Art Infrastructure
RNN Conference Centre boasts state-of-the-art infrastructure to support large-scale computer-based examinations. With the capacity to accommodate up to 300 workstations (desktops) and LAN connections, we can handle examinations of varying scales. Multiple backup internet connections and servers ensure a reliable and uninterrupted examination experience.
RNN Conference Centre's extensive experience and expertise in organizing and conducting computer-based examinations make them a trusted choice for organizations seeking a reliable examination partner. Their range of services, convenient locations, professionalism, and state-of-the-art infrastructure set them apart in the industry.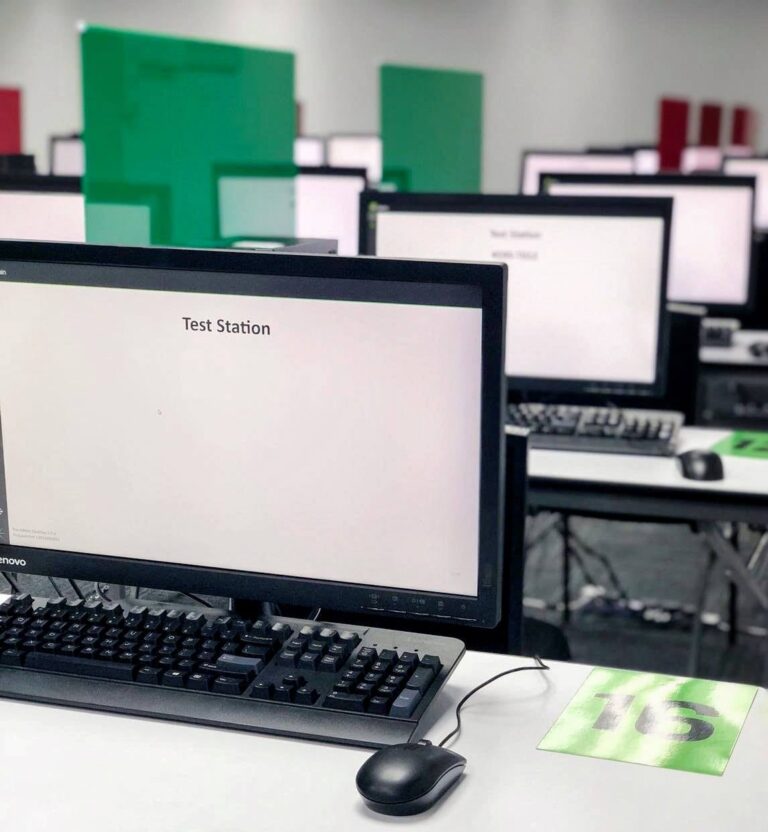 Benefits for hosting at
RNN Conference Centre:

Lighting-fast workstations to ensure efficient and smooth exam experience with LAN connection available for stable and reliable network connectivity.

24/7 on-site Professional IT staff on standby throughout the session to provide immediate technical support and assistance.
Cleanliness support for uninterrupted operations and a clean environment.
Large screens for clear and enhanced visibility during examinations.
Reliable and large storage servers for secure storage and retrieval of examination data.
Holding and registration area available for a smooth check-in process.
Privacy partitions to maintain confidentiality and create a focused environment for candidates.
High-speed internet connection to facilitate online-based examinations.
Cutting-edge projector, microphone, and speaker for audio-visual requirements during exams or events.
CCTV can be installed and acces to monitor the exam if requested
rent seminar room, conference room rental, hire training room, hire venue, rent meeting room, meeting room rental, seminar room rental, training room rental​, computer based exam, computer exam, computer exam room rental, rent computer lab, rent computer exam venue